This May Be The Most "On Brand" Resort Billboard I've Ever Seen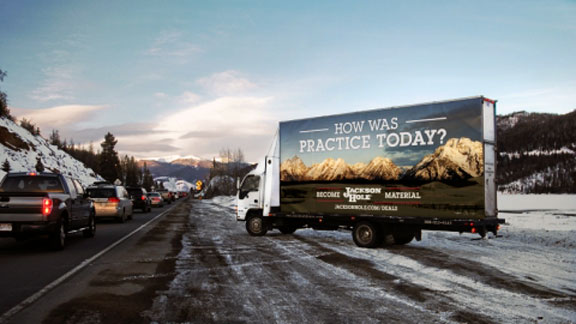 June 28th, 2012
By: Gregg Blanchard
(Photo source: ESPN.com)
Jackson Hole is a mountain. It's not a hill, it's not an "area" or "resort", it's a mountain. It's hard not to be so when you are nestled up again the Tetons. I've never skied there, but my occasional view from the parking lot going to or from Yellowstone is enough to make me know it's beyond "legit".
Now I'm living in Colorado and skiing along I-70. There's some awesome terrain here, but comparing this to Jackson doesn't quite work. So, when I see a billboard like the one at the top of this post, one word comes to mind: BINGO.
The Brand
I don't mean the bingo like you can't wait to play on your next trip to Vegas, I mean exactly, spot-on, couldn't-have-said-it-better-myself. When I think of Jackson I think of Corbet's Couloir, the guys that charge chutes all day wearing those full face helmets so they don't die if they crash, and a tram that perches your meat on a summit with nothing but gnar between you and the bottom.
Their website confirms. Sure they reach out to other groups, but phrases like "Unrivaled: Jackson Hole delivers the biggest ride to the biggest mountains." makes it clear what to expect.

I love Colorado because of the variety, the people you meet, the experiences, but asking Colorado skiers has "practice was today" is one of the most "on brand" messages I've ever seen.
Non-Competition
I don't really view this as competition. This was seen by commuters from Denver (for the most part, I'm sure a few folks in shuttles to and from DIA caught a glimpse) and is simply saying, "You had an awesome day but when you're ready for something bigger, tougher, legit-er, Jackson is always ready."
This probably couldn't go the other way, either. I typically get inspired by something bigger, but usually not by going smaller. A billboard near Jackson that says, "Tired of the big stuff? Come to where you won't be sore at the end of the day." might get some chuckles but I can't see it changing behaviors.
Jackson is big, they've got a mountain worthy of respect, and their messaging matches. Awesome stuff.